Going for a jog – as Wolverhampton ran to standstill – wasn't meant to take me there, but something drew me in.
Music in my ears, Deep Heat in my hamstrings and water in my eyes at a landscape I call home.
The Holloway and Henwood Road come and go to a soundtrack which should have known better (End of a Century – Blur!). Then onto the Tettenhall Road in once stately pomp, looking like the morning after the night before. The smell of weed pervades and I keep on moving. One foot in front of the other. Plane trees sway, daffodils play and for a split second you'd never know what's up.
'Cheer up Chapel Ash' I thought, 'it might never happen.' I then get lost in thought, for better or worse. A question in my mind for every bead of sweat on my brow.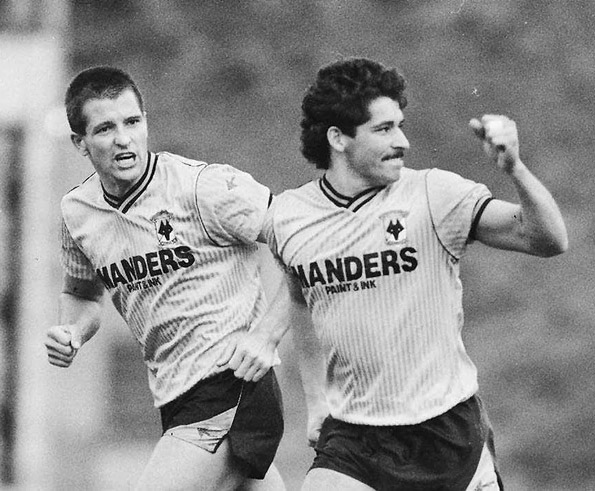 Was beating Man Utd in the cup as good as it gets? What would I do without Dad? Was Bully's left foot goal against Bolton in Division 3 his best? Does Grandma still see me? Did she know how much I loved her? Was Paul Cook better than Kevin McDonald? Have I failed her? Will my legs stop telling my head to slow down? Is Ruben Neves celestial? Will I ever like myself again? The usual kind of stuff…
…Iggy Pop disrupted me with a Lust for Life and there I was, jogging along the Waterloo Road like I'd done a thousand times before.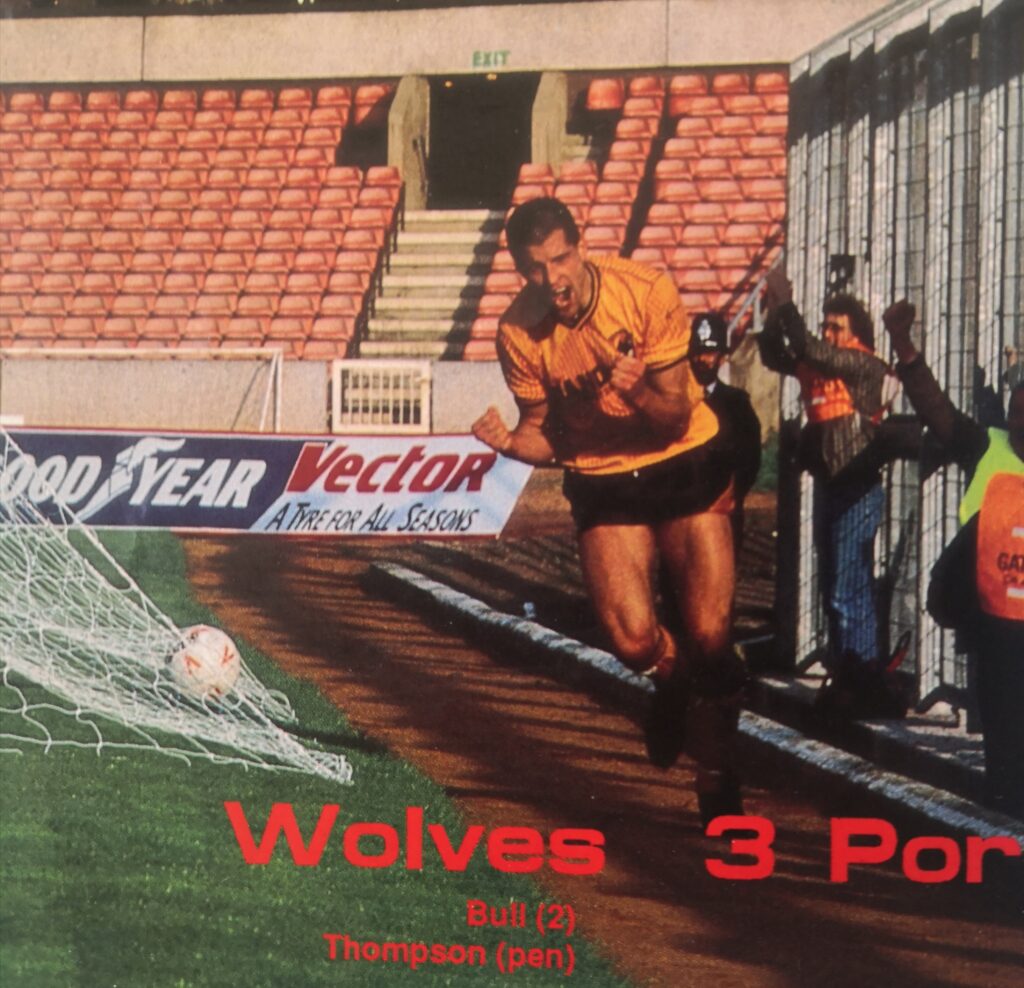 One time in 1988, me and Dad were late for my third ever game – a 3-3 draw with Port Vale.
We missed Robbie Earle score for Vale after 37 seconds. We were running on adrenalin when Bully scored at the South Bank in injury time though. Dad bought me a pin badge for my scarf that day. A little lone wolf on a lustrous gold surround.
Another time, he rushed me home early with a migraine almost 30 years to the day, when Andy Mutch put us ahead against an almighty Leeds United side in blazing sunshine that hurt my head. I lay stricken on the back seat on the way home. A Radio WM goal-horn sounded at 4.50pm as we entered Bewdley's Catchems End. Dad breathed a profanity. 'No, no, no' he whispered.
'Late drama at St Andrews!', bellowed Franksy, thank fuck.
Some days were meant to be, weren't they? David Batty slipped on his arse and Mutchy rounded Mervyn Day back then. Did the daffodils know any different?
In today's age, me and my boy have skipped back down the same square inches of pavement I was now plodding along in my trainers. Not so much an eight minute mile, but a suspended snapshot of a better place which had gone before I'd blinked. We'd get to the ring road island from the Billy Wright Stand and we wouldn't have come up for air, relaying each moment of a top flight conquest with the veracity of October '88 – when I wore that pin badge with pride. We'd laugh and cheer together in unison and in that moment, my boy's beaming smile would look so pure, I wish I could press pause.
'While we're living, the dreams we have as children fade away.'
On another day, me and Dad would cover the same 800 footsteps without saying a word. It was hard to know what to say in 2002. Harder still when he's thinking of mum and I can only fumble a line about Colin Cameron scoring in 47 seconds – 10 more than Robbie Earle in 1988. 'Do you remember that one Dad?'
'Thinkin' 'bout thinkin' of you; Summertime think it was June. Yeah, I think it was June?'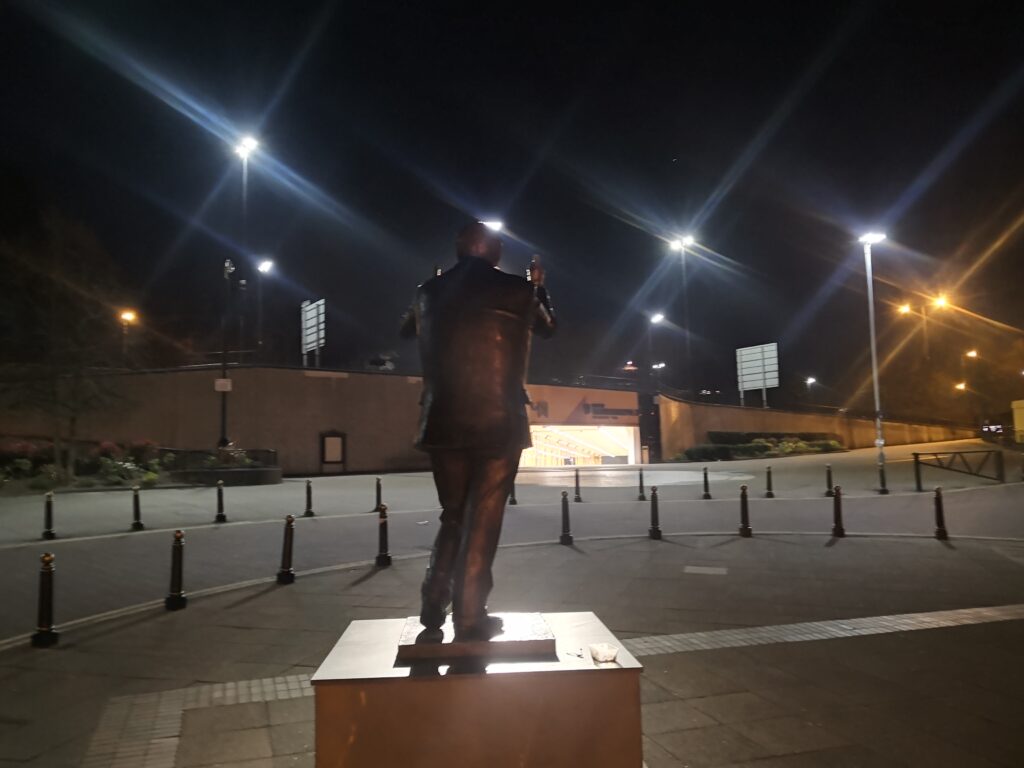 I did a lap of the Molineux without thinking; without seeing a soul. I got to the South Bank and amid the dead of night, I saw a smiling Sir Jack taking guard. His thumbs up high, looking at a place I couldn't quite reach.
I didn't know the place I was heading when I stepped foot outside the door, truth be told. I don't think I ever do these days.
But virus or no virus, the Molineux will be there when I do, just like it's always been.